Difference between the IELTS Academic and IELTS General Training Tests
Are you ready to take the flight to study, work, or live abroad? We guess you know the fact that the IELTS (International English Language Testing System) Test is one of the tests you have to attempt as it is English assessment is one of the criteria that increase your chances to move to your favorite destination, study in your desired educational institutions, and find the best opportunities overseas.
Also, the IELTS exam has two types, or you can refer to them as IELTS Modules. They are IELTS Academic and IELTS General Training. When planning to go to countries like the USA, the UK, Canada, New Zealand, or Australia, you have to make the choice between the two modules according to your purpose. To help you decide on the test type, read further.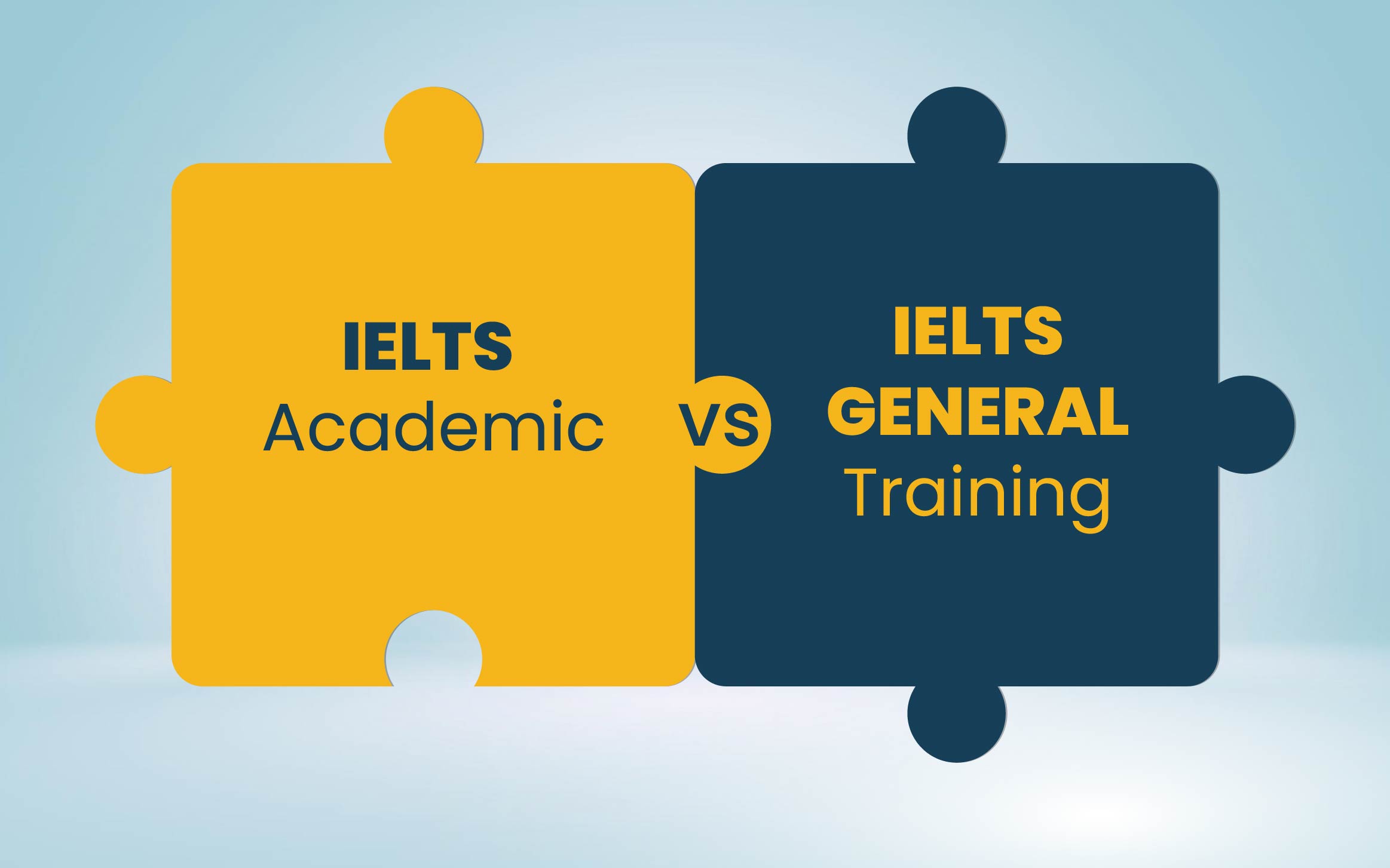 How is IELTS Academic different from IELTS General Training?
As mentioned, it is the purpose of going abroad that decides which module you should take. You could be going overseas to study, work, or migrate. The difference lies in the same. Even when it comes to your plan to study, you may be going abroad for degree courses, non-degree, vocational training, research, doctorate, etc. In these scenarios, the choice matters whether to take the IELTS Academic or IELTS General Training Test.
When to choose the IELTS General Training Test?
If you are heading overseas for migration (the UK, New Zealand, Canada, and Australia) and work, then IELTS General Training is the right choice. You can choose to appear for the General Training test if you want to get admission for below-degree courses. It is used to pursue secondary education and for training programs. All you need to have is basic English skills that cover general topics. It checks if you can easily communicate in English or not when living or working abroad in English-speaking countries.
When to choose the IELTS Academic Test?
The IELTS Academic Test is for those who want to study abroad and take up higher education in universities in countries like the UK, USA, Canada, etc. Also, this test is valid for people requiring professional registrations. You can pursue undergraduate, postgraduate, and other high-level degree courses if you get the desired scores in IELTS Academic. You must know English at a level that suits the academic setting, the level of academic textbooks, scholars, magazines, etc.
Secondly, the difference lies in the test tasks or topics. IELTS Academic and IELTS General Training have common sections- Listening, Reading, Writing, and Speaking.
IELTS Academic Listening and IELTS General Training Listening
Listening sections are common but the content varies in both modules. As the name says, the monologues or dialogues you hear in the recordings of the IELTS General Training Test are casual and how we talk daily. It may also have information in the form of announcements made in general, focusing on the general public, and workplace-level discussions. Coming to the IELTS Academic's Listening sections, the recordings have topics of academia, lectures, university-related discussions, etc. The main purpose is to know if you can understand the context spoken at universities and colleges.
IELTS Academic Reading and IELTS General Training Reading
Not only does the Reading section differ in content, but also the difficulty level in IELTS General Training and IELTS Academic. In the first one, the texts are of daily life situations, advertisements, brochures, etc. You must be able to understand the passages and be clear in your responses as asked.
The academic one is focused on checking if you can comprehend the complex passages taken from textbooks, scientific articles, educational excerpts, etc.
IELTS Academic Writing and IELTS General Training Writing
There is a distinct difference when it is the third section- Writing. You will be required to write an essay and a letter as part of the IELTS General Training test. The tone in the response should be formal or semi-formal and you have to write an essay on given current events with your opinion.
In contrast, you must write a report or a summary based on a graph, chart, or diagram for the IELTS Academic test. You will also be required to write an essay outlining and supporting a position or analyzing a particular subject. As it is academic, you have to write the response with a higher academic vocabulary and opt for a formal tone.
IELTS Academic Speaking and IELTS General Training Speaking
The speaking portion of both the IELTS Academic and IELTS General Training Test is the same and assesses your capacity for verbal communication. You have to introduce yourself and give an interview with questions ranging from general and real-life situations. It can also be a situation where you have to give your viewpoints and talk on social issues. Make sure you work towards your fluency, accuracy, and vocabulary variety, as these are the basis of scoring during the speaking test.
What is the IELTS Academic and IELTS General Training Test duration?
We understand your confusion about the timings as the test duration gets changed. Given the sections and duration of IELTS Listening (30 minutes), IELTS Reading (60 minutes), IELTS Writing (60 minutes), and IELTS Speaking (11-14 minutes), the total duration is 2 hours and 45 minutes.
Can you give both IELTS Academic and IELTS General Training Tests?
Yes! You can take both the IELTS General Training Test and the IELTS Academic Test. Only the dates for the tests will not be the same. Depending on why you are going abroad, you have the choice to select between the IELTS Academic and IELTS General Training tests or both if you have a confusion. We have already told you that the General Training test is for people looking for employment or immigration prospects, and the Academic test is suitable for people pursuing higher education. You can select the test that best suits your needs and goals. Be prepared thoroughly!
Is the IELTS Academic harder than the IELTS General Training?
As the fundamental is English language proficiency, the basics remain the same; the level of the IELTS Academic is higher than the IELTS General Training test. Since the Academic version is made for academic settings, while the General Training version is made for real-world, everyday scenarios, students find the Academic Test more challenging than the General Training test.
What is the minimum band score for the IELTS General Training?
The IELTS General Training test does not have a set minimum band score requirement. Each country specifies a range above which you should score. The band score you require will vary depending on the particular standards set by your job, company, immigration office, or other institutions for training programs. If you plan to take the IELTS General Training, find and review the organization's or program's scoring requirements before applying to avoid any trouble.
What is the minimum IELTS Academic band score?
The minimum IELTS Academic band score depends on the university, college, or academic program you're applying to. For each country and educational institution, different IELTS Academic band requirements apply. The minimum score criteria for various universities often range from 5.5 to 7.0 or higher. Always check the score requirements of your selected college or program to make sure you meet the precise entrance requirements. Also, always try you get a high score so that you get admission to your favorite study-abroad country and its institution.
Which courses are acceptable for IELTS Academic and IELTS General?
As you read, IELTS Academic and IELTS General Training serve different purposes. IELTS Academic is for higher education (undergraduate and postgraduate programs), professional registrations (medicine and nursing), and doctoral and research-based programs. It may be needed for international scholarship programs. You can take the IELTS General Training test for migration to Canada, Australia, etc., for job purposes and admission to secondary education and vocational training programs. Always ensure you understand the specific requirements of your chosen institution, organization, or program.
What are the fees of the IELTS Academic and IELTS General Training?
Like many others, you may be confused about the fees. Even many ask the question- "Is the fee of IELTS Academic and the IELTS General the same?" In India, the IELTS fee for both tests is INR 16,250/-. The fee is different if you take UKVI or computer-based IELTS Tests. The IELTS Academic and General Training test fees can vary based on your location and the test center you choose.
How can you find IELTS test dates and centers for IELTS General Training and IELTS Academic?
You can find test dates and IELTS official centers for IELTS General and IELTS Academic on the official IELTS website, IDP India official website, or get in touch with any authorized test centers in your area. On the websites, you can find an option to select the preferred month and see the available test dates. You can then book the IELTS test based on your preference of IELTS test type, paper or computer-based test. It is important to register for the test well in advance to secure your preferred date and location.
Is there any similarity between IELTS General Training and IELTS Academic?
Yes, the purpose of IELTS General Training and IELTS Academic differ, but they have similarities. Both aim to check your proficiency in the English language by assessing your listening, reading, writing, and speaking skills. There are 4 sections (Listening, Reading, Writing, and Speaking) in both the tests. The listening and speaking modules in both are identical. Both tests have the same Band Scoring system, ranging from 0 to 9, with higher scores indicating superior English proficiency.
Take IELTS Academic if you want to seek higher education or professional registration, whereas choose IELTS General Training for immigration purposes, secondary education, or work-related training.
Can you change from IELTS General to IELTS Academic?
Yes, you can change the test type (from General Training to Academic and vice versa) only if you request to change it 5 days before your scheduled test date. IDP considers this request through a form/application. You should ensure there are test dates and location availability for the IELTS type you want to switch to. You can get help from the official center or any training institute for IELTS to know more details on the same.
We are sure you now have the answer to your question, "What is IELTS Academic vs. IELTS General Training?". Both these Academic and General IELTS tests are widely accepted tests to measure your English language competency. To summarize, the IELTS General Training test is for those who plan to work or immigrate to an English-speaking country, while the IELTS Academic test is for those who intend to study at the undergraduate or graduate level at a university where English is the main language of instruction. So, you have got information on the IELTS test fees, the difference between IELTS General Training and IELTS Academic test format, the difficulty level of both the test types, etc. Select the test that most closely reflects your objectives, and put some time into studying so that you are prepared to do well on test day. Is preparation an issue for you? We understand that many of you might be finding the process of searching for a test center and many other things difficult. It could be IELTS General Training and IELTS Academic Test preparation, but you should leave that worry. Madhavi's British Academy has got your back! We train students who want to attempt IELTS- be it IELTS Academic or IELTS General Training. For 20+ years, our educators have been training students to improve their English skills. All those who were confused or needed guidance have achieved their dreams of studying abroad by preparation at Madhavi's British Academy in Ahmedabad!
Read our testimonials and student reviews, and visit the center! You can take online or offline IELTS Coaching in Ahmedabad and even attend our orientation programs to get complete information on our pattern of teaching, course duration, fees, demo classes, etc. Contact Madhavi's experts to solve all other queries you have regarding IELTS tests- IELTS General Training and IELTS Academic Test.