What are the Most Common International English Exams?
Your study abroad dreams have a link to how good you are with communication in English. The English language is a medium that connects you to others on the global platform! When you travel overseas, most people talk to you in English, and even at workplaces, the medium of instruction is English. So, you have to be good enough to understand, converse, and convey in English because overseas countries have specific English Language Requirements for international students. You have to clear those English Proficiency Tests to get entry into your dream destination for study, work, travel, or settle. We know how you, among many, might have questions related to International English Exams:-
Is English necessary for studying abroad? Is English language proficiency required if I want to migrate? Do I have to take an English language test to work overseas? What are the English proficiency tests that I should take to study abroad? What are the English Language Requirements for International Students?
We will address these questions and more related to overseas English language requirements and English language proficiency tests. Let's begin!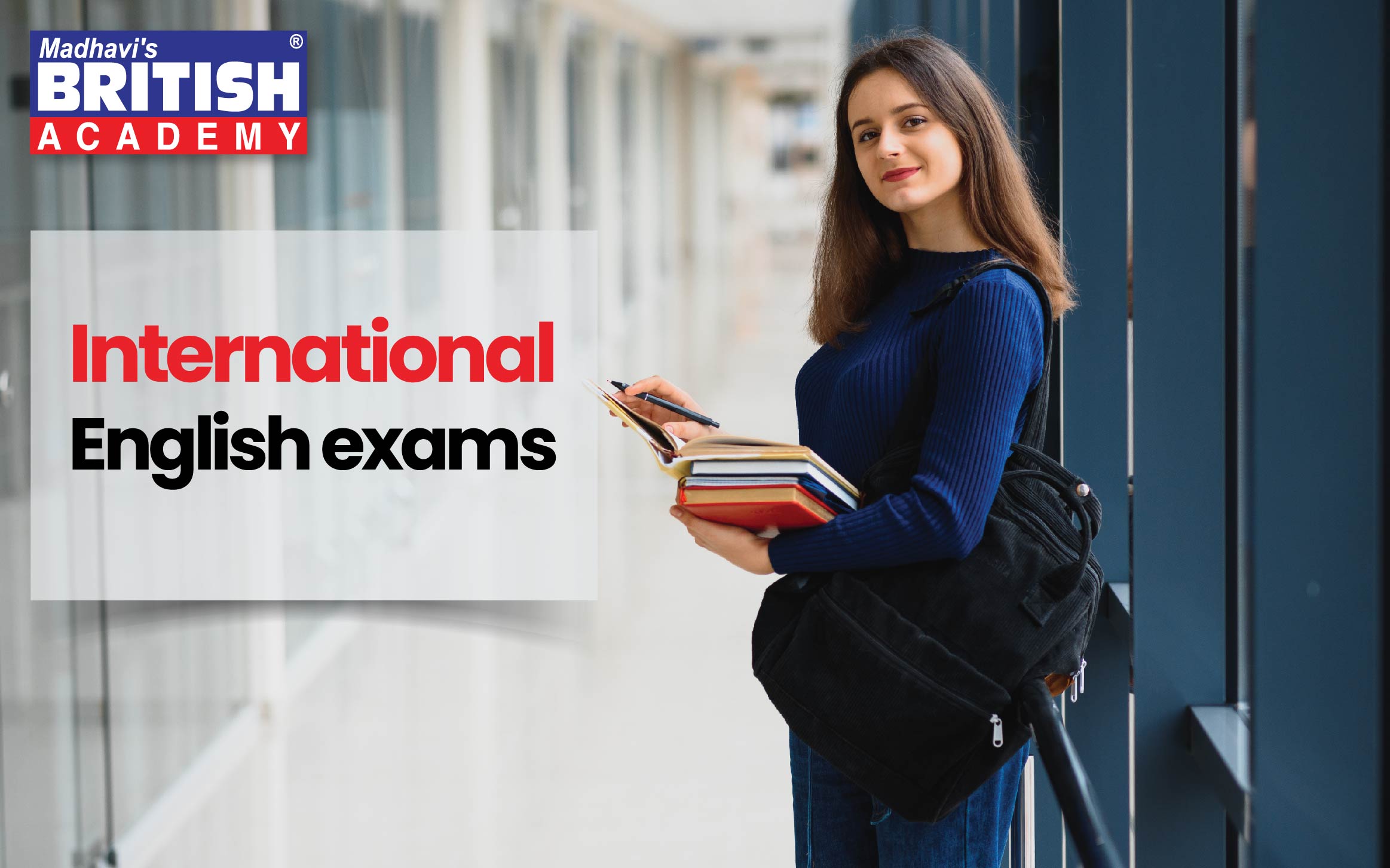 What is the importance of English Language Proficiency?
As we mentioned above, English connects all. Study, work, or live in foreign nations- do not undermine the importance of English and taking International English Exams.
Study Abroad
If we talk about academia, English serves as the universal language, and a majority of courses are conducted in English. Also, English dominates when it comes to study materials, journals, other sources, etc. So, you should have a high level of English proficiency to excel in your academic initiatives.
Work Abroad
If you are looking to work in overseas countries, learn English because many employers require their employees to have a certain level of English proficiency for effective communication. The job market in the global setup asks for you to be competitive enough so they don't lag. So, get ready to learn English.
Settle Abroad
Your plan of settling abroad requires much hassle. One of the important aspects is your English language proficiency. Once you travel overseas, you will have to interact with people daily; you must understand what they speak and be able to convey your thoughts better- English comes into the picture, so that's how important English is!
Walk on the path of study abroad journey, and keep English proficiency a priority.
What are the English Language Proficiency Tests?
English is a stepping stone to your journey abroad; countries have set a standard that determines how proficient you are in English through English Reading, Writing, Speaking, and Listening skills evaluation. Some common most preferred English tests are- IELTS, PTE, and TOEFL. Other tests are- CELPIP, TOEIC, etc.
IELTS
You've planned to go abroad and never heard of IELTS? That is next to impossible! IELTS is one of the most popular English proficiency tests. It is recognized by over 11,500 organizations worldwide. It comes in two modules- IELTS General Training and IELTS Academic. While both tests assess English proficiency, IELTS General is suitable for individuals moving overseas for a job and settling, and IELTS Academic is for students. Your purpose defines which IELTS Test Type is for you.
PTE
Next is PTE. The Pearson Test of English is intended to test students in their English capability, recognized at 3000+ institutions worldwide or countries where English is the native language. You can attempt PTE and use the scores of its three sections (Speaking and Writing, Reading, and Listening) to study or work in nations such as the United States, the United Kingdom, Australia, and New Zealand, among others. PTE is recognized for visa applications to Australia, New Zealand, and the United Kingdom.
TOEFL
TOEFL is advised for students applying to universities in the United States, Canada, France, and Germany. It is a similar English proficiency test to assess the Reading, Listening, Speaking, and Writing skills of non-native speakers' English language proficiency for them to enroll in English-speaking universities. More than 12,000 universities and other organizations in over 160 countries recognize the test.
CELPIP
If you are thinking of Canada as your abroad destination, then you can consider taking the CELPIP test. The Canadian English Language Proficiency Index Program evaluates your English proficiency in a range of contexts from daily life and is mostly used for professional and immigration purposes. Both the CELPIP - General Test and the CELPIP - General LS Test are available. The second test only covers speaking and listening; the first test covers all four language skills.
TOEIC
It is the Test of English for International Communication, or TOEIC, which evaluates your communication abilities for the workplace and is highly regarded by businesses, multinational corporations, international organizations, and governmental bodies all over the world because it enables you to demonstrate your capacity to communicate with coworkers and clients on a global scale. You must check the eligibility and attempt this if you are going abroad for working purposes.
Cambridge Exams
Cambridge, one of the top universities in the world, is recognized for offering English Language Proficiency Qualifications. Numerous companies, colleges, and government agencies around the world accept them as evidence of English proficiency. They test beginner to expert-level English. You can demonstrate your proficiency through PET, FCE, CAE, KET, and CPE.
Prove yourself capable of reading, writing, listening, and speaking in English if going overseas is your dream.
What is the minimum English Language Proficiency Test score?
The minimum score for the English proficiency tests varies for study, work, and migration to different English-speaking countries. Here is the range of score requirements for some commonly accepted tests:
For Study
USA
IELTS: Typically 6.0 to 7.5
TOEFL iBT: Around 70 to 90+
PTE Academic: between 50 to 75
UK
IELTS Academic: Often 6.0 to 7.5
TOEFL iBT: Approximately 85 to 100
PTE Academic: Varies but often 51 to 75
Canada
IELTS: Commonly 6.0 to 9.0
CELPIP: Scores at least 10
TEF: Minimum 70
New Zealand
IELTS: Generally 6.5
TOEFL iBT: About 80 to 90+
PTE Academic: Often 50 to 75
Australia
IELTS: generally 6.0 to 7.5
TOEFL iBT: Around 75 to 100
PTE Academic: 65+
For Work and Migration
International English Exams and their requirements vary from organization to organization and country to country.
Also, it is necessary to note that these scores are approximate and may change over time, so you must verify the most current information from official sources, institutions, or a coaching class.
English Language Proficiency Tests and Common European Framework of Reference (CEFR)
| | | | | | | |
| --- | --- | --- | --- | --- | --- | --- |
| Test/Level | A1 | A2 | B1 | B2 | C1 | C2 |
| IELTS | - | - | 4.0-5.0 | 5.5-6.5 | 7.0-8.0 | 8.5, 9.0 |
| TOEFL | - | - | 42-71 | 71-94 | 95-120 | 115-120 |
| TOEIC | 120-234 | 235-549 | 550-784 | 785-944 | 945-990 | - |
| KET (Key) | 100-119 | 120-139 | 140-150 | - | - | - |
| PET (Preliminary) | - | 120-139 | 140-159 | 160-170 | - | - |
| FCE (First) | - | - | 140-159 | 160-179 | 180-190 | - |
| CAE (Advanced) | - | - | - | 160-179 | 180-199 | 200-210 |
| CPE (Proficiency) | - | - | - | - | 180-199 | 200-230 |
| CELPIP | - | 4 | 5 | 6,7 | 8,9 | 10-12 |
(Table Reference-
British Council
)
Is IELTS more difficult than PTE, TOEFL, or other International English Exams?
Are IELTS vs. PTE or IELTS vs. TOEFL questions you have in your mind? If so, we will answer it as many have such confusion. The difficulty level varies from the test-taker to the test-taker. Some are comfortable with paper-based tests, some with computer-based tests. Also, every test has a different format, mode, evaluation criteria, etc., and you may prefer one over another based on your preference and weaknesses/strengths. With proper practice, familiarity with the concepts, efficient skills, and proper guidance, you can score high in these English Proficiency Tests, as these will help make IELTS, PTE, TOEFL, etc., less challenging.
How do you prepare for IELTS, TOEFL, PTE, and other exams?
Are you worried about English Language Proficiency Test preparation? Do not worry. Decide your abroad destination, study thoroughly about the English Language Requirements there, and make a plan. Constant practice, regular evaluation, time management skills, and expert guidance will help you achieve the desired score in these International English Exams.
If you need help with preparation, then meet the educators at Madhavi's British Academy, the PTE, TOEFL, CELPIP, and IELTS Coaching in Ahmedabad. Our coaching will help your abroad dreams become a reality. We will focus on your career goals, weaknesses, and strengths and ensure you prepare for the English proficiency tests in the right way. Our team is here to provide you with complete support. Embark on your study abroad adventure with us.